Do you ever consider that if you spent the time and energy that you spend on poker on your school work that your life could have been a lot brighter or easier? It can be difficult to find the motivation or impetus to study but with online poker being so fun and rewarding, most people find it within themselves to properly apply themselves to making the most of the game. The fact that poker will touch on many of the skills that you learn at school is neither here nor there for some people, for many, it is a completely different discipline.

However, with the support of Titan Poker, you can utilise your poker skills to finally get that diploma you have always wanted. The site is providing Cash Game Academy diplomas for the whole of January. Just like in real life, gaining a diploma opens up a whole new world of earning opportunities for you. This is down to the fact that for every diploma you earn, you will receive $1 in cash. With players being able to earn up to $150 in this promotion, this is certainly a promotion that is worth pursuing. You will also find that every time you earn 5 diplomas, you will be granted an additional diploma on top of it! Yes, you get your sixth diploma automatically when you earn your fifth diploma, pushing you on your way to more success and more cash!
Titan Poker offers plenty of incentives
One of the best things about this bonus is that it is on top of your welcome bonus, so you have an excellent opportunity to boost your bankroll and make the most of your online poker time. You earn your diploma by winning hands at the three separate cash game stake levels.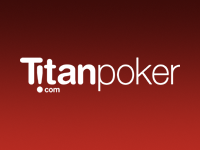 If you play at the 0.01/0.02 to the 0.02/0.05 level of stake, you need 300 winning hands to earn a diploma. If you play at the 0.05/0.10 level of stake, you need 200 winning hands to earn a diploma. If you play at the 0.10/0.20 level of stake, you need 150 winning hands to earn a diploma. If you are in a hurry, it makes sense to play at the more expensive level of play but the fact that there are options for everyone should ensure that all poker players get to join in the fun of this latest Titan Poker promotion.
Given that the site wants as many people as possible to better themselves, they have provided some tips to pick up diplomas. Titan Poker recommends that players multi-table to get more games under their belt. The site also recommends that players play with a touch of aggression. If your natural playing style is more laid back and calm, taking your play up a notch may be exactly what you need to turn playing into winning. The site also recommends that you study, but don't worry; this isn't the boring type of studying. This is studying the stats of your opponents, giving you a greater understanding of what you are up against at the poker table.