Titan Poker VIP Program
Titan Poker Has An Awesome Rewards Program For You
Poker sites work hard to attract new players, as evidenced by the big first deposit bonuses that they pay out.  So when they invest this much money in getting you to try them out, while just trying them out may be the intention some of these players, just having players try them out is certainly not the intention of the poker rooms offering these bonuses.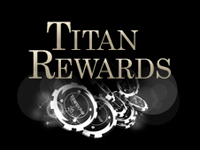 They instead want you to continue to play there, so after you collect your welcome bonus, they continue to reward you for playing at their poker site.  Titan Poker's welcome bonus is the biggest in the industry, so you can bet that they really want to make sure they have invested wisely in you by encouraging you to play on there.
Of course, frequent player rewards are just part of the reason why players continue to play at a poker site, as poker rooms need to ensure that they have as much of everything else going for them as well.  Frequent player bonuses are definitely a big factor though, and players often change poker sites in order to get paid more somewhere else.
Titan Poker has always had a great reward program compared to their competition, and have also always had among the best player retention rates in the business.  This is in fact how they managed to grow their business from just starting out with no players just a few short years ago to where they are now, as one of the biggest poker sites in the world.
So instead of standing pat, they recently increased what they pay out to players, to make them even more happy to stay with them.  We of course are the beneficiaries of this, those of us who have played at Titan Poker and therefore understand what a great poker site it is overall.  If you aren't among us, once you join us you will find all of this out for yourself.
In the mean time, I want to go over Titan's VIP program for you, so once you do sign up there you will have a better idea of what they have in store for you in terms of their generous rewards program.
Everyone Is A VIP At Titan Poker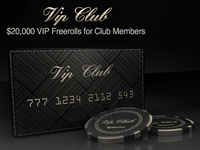 Some VIP programs require you to play a certain amount of poker per month to qualify at even their lowest VIP tier.  This is not the case at all at Titan Poker, where even zero points during a month still has you at the Bronze VIP level.  Of course, if you don't earn any points, you won't collect any rewards, but you can still participate in the $250 weekly freeroll that Titan Poker has for Bronze VIPs.
The Bronze VIP level is for those who collect less than 250 Club Points a month.  Whatever amount of points that you collect, you will receive cash in your account automatically once a month as a Bronze VIP member.
If you can collect at least 250 points in a month, which is very easy to do if you play at all, then you move up to the Bronze+ VIP category, where you become eligible for the weekly $500 and $1000 freeroll as well as the monthly $5000 freeroll.
Collecting And Cashing In Club Points
Your points are earned at the rate of 15 for every dollar that you contribute to the rake, 17 for every Euro you contribute, 21 for every British Pound you contribute and 17 for every dollar, Euro, or Pound  that you pay in tournament fees.
Titan Poker calculates your Club Points automatically, and you can check on how many you have earned at any time though your personal web page that they maintain for you, containing not only this but other useful information as well.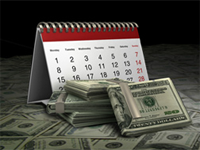 As far as redeeming your Club Points, players who have accumulated between 100 and 2000 points during a current month will have their points automatically cashed in and paid out at the rate of $1 per 100 Club Points.
Once you get over 2000 points in a month, you graduate to the Copper VIP level and beyond, where you can either continue to have your Club Points paid out to you automatically each month at this rate of payout, or cash them in yourself for cash or other items of value.
At that point, the more you save up before you cash in, the more money you can earn per 100 points.  Here's a tip though.  This only becomes a better deal once you have saved up at least $1500 worth of Club Points.
So only the bigger players need to worry about this, and in the mean time, they will let you continue to cash in via the automatic method, which is the best value for you below this very large payout of the $1500.
Of course, once you work your way up the ladder to the higher stakes, or if you are there already, Titan pays out even more per dollar for these higher amounts, up to their top request of $14,000 for cashing in 900,000 Club Points.
Additional Benefits Of The Copper VIP Level And Beyond
Beyond the Bronze and the Bronze+ VIP levels, things get even more exciting.  At the Copper level, requiring 2001-2999 Club Points a month, you get 1.2 times the VIP points.  This means that you collect VIP points even faster.  This continues to accelerate as you continue to climb the VIP ladder.
The Silver VIP level, 2101-4999 Club Points a month, gets you 1.3 times the Club Points.  The Gold VIP level, 5000-14,999 Club Points a month, earns you 1.5 times the Club Points, and the Titanium VIP Level, 15,000 points and up, gets you 2 times the normal VIP points.  So as you can see, this is like a snowball rolling down a hill, and once you start moving up the VIP levels by moving up in stakes, playing more tables at once, or simply by playing more, this positive momentum will earn you points faster and in itself increase the points you get and the money you earn each month.
In addition to the freerolls that Bronze+ VIP members are entitled to, at the Copper VIP level, you also get a free entry into the VIP sit and go tournament.  In addition, at all of these higher levels, you also get access to the VIP store, where they have great deals on merchandise if you choose to spend your VIP Club Points that way.
At the Titanium level, you also get entered into Titan Poker's $5K Gladiators race, where you will battle against other Titanium VIPs for cash and glory.  This is a lot like the championship of Titan Poker, although it runs every month, so if you don't win a prize during a certain month, you just get ready to do battle again.
Titan Poker's Titan Treasures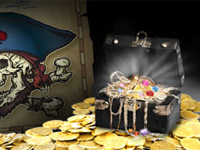 In addition to their VIP program, Titan Poker also offers a unique promotion where their players can earn extra rewards for accomplishing various quests.  For each one completed, you receive a certain amount of gold coins, which can then be redeemed for cash and prizes.
To start you out, you get 10,000 gold coins just for making your first deposit with them.  There are a number of other ways to earn more gold coins, for instance, you get a whopping 40,000 gold coins just for referring a friend to Titan Poker, plus a lot more ways to earn these coins.
With the gold coins that you earn, you then buy tickets with them, and every ticket is a winner.  With 10,000 gold coins or more, you can buy a ticket that can win you cash, or trade your gold coins directly for cash or merchandise.  The choice is yours.
Just Playing At Titan Poker Is The Biggest Reward Though
Bonuses are very nice, but what you really need to keep in mind here is that bonuses are just bonuses.  What's far more important is how well you do at a poker site in general.
To make this clearer, would you consider it to be a good deal if you earned $10 in bonus money for playing a certain amount of hands, but lost $100 each time you did?  Your net profit there would of course be -$90.  So this isn't much of a bonus, is it?
Now I need to explain that this is all relative, and if you are less experienced or haven't figured out how to beat the games well enough, you may lose money at even the easiest sites.  In this case, it will then come down to how you do at one site compared to another, in other words losing less money at the easier poker site.
So if there are two poker sites, and at the first one you lose $50, and at the easier one you only lose $10, then we can say that the easier site is $40 better over this certain amount of hands.  If you are making money, and you make $50 at the easier site and only $10 at the tougher one, once again the easier site is $40 better.
So as you can see, no matter how well you play or what your skill level is, how you do at an easier site compared to another one matters a heck of a lot.  In fact, given that however you play is the same across sites, it's the one thing that you can really control that makes an absolutely meaningful difference in your results.
Titan Poker Is That Easier Poker Site
Titan Poker features the soft competition that you need to ensure that your results are the best you can make them relative to your current level of poker skill.  While we all want to get better as poker players, and hopefully we are working on accomplishing that, a bigger and more important task is making sure that we are playing against weaker players rather than stronger ones.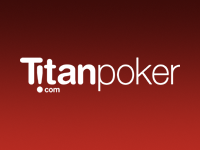 You may think that this matters less when you are still struggling and losing money playing, but in fact this is when softness of competition is the most important.  At this stage, and at every stage in fact, you will collect a fixed amount of player rewards per given amount of time playing.
So while we do want to look to be rewarded generously with these frequent player bonuses, as Titan Poker does for us, the point I am trying to make here is that this is all relative to how we do at the table, reducing our losses or increasing our winnings as the case may be.
The baseline, the table results themselves, are what these bonuses modify.  So the actual results are obviously going to be pretty important in determining our overall results with the bonuses accounted for.  This is why you want to pay even more attention to how easy or difficult a poker site is when you calculate in the effect of frequent player bonuses.  This is just as true if you are a phenomenal player or a raw beginner, as the better you do, the better your results will be.
So Titan Poker Has It All For You Here
Given that Titan Poker features both great frequent player bonuses and comparatively easy competition, we can then say that not only do they pay you nice bonuses but just playing at Titan Poker is a big bonus in itself.
When you add in things like their huge welcome bonus just for trying them out, their award winning customer service, their extremely well run operation, their high level of security and trustworthiness, their many convenient deposit and withdrawal options, and much more, then you can begin to understand why we love this poker site so much.  You really need to experience all of this yourself though, which you can do by visiting them through our link.