Titan Poker Jackpot Sit And Go's
Sit And Go Tournaments Are Already Very Entertaining And Exciting
Sit and go tournaments have been very popular among online poker players for many years now.  They offer the additional strategy and entertainment of big tournaments without having to wait for one to start or to have to commit so much time to them.
Sit and go tournaments are exactly just that, you sit and then you go.  Grab a seat and just wait for your table to fill up and then the fun begins immediately.  They are also of a much shorter duration than regular scheduled tournaments since there is generally only one table involved, meaning that there are only a few players that need to bust out before it is over.
So depending on the format, meaning how many people are entered and how fast the blinds escalate, sit and go tournaments last anywhere from a few minutes for a heads up super turbo sit and go, to under an hour with a multi table sit and go running at regular blind speed.  You can choose whatever speed you want and even if you only have 15 minutes to spend you can get in on a tournament.
The Additional Elements Of Sit And Go's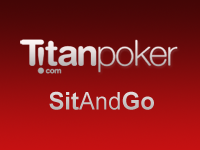 One of the best things about tournaments is having all of the action at the table affect the outcome for you, even in hands you aren't involved in, affects your relative standing in the tournament.  Often you can make money just watching other players play against each other, where one may be crippled or bust out, putting yourself in a better position and even moving up in the money.
Or, someone may win a hand and put you in a situation where you have to change your strategy and become more aggressive or take more risks.  That's the beauty of poker tournaments, seeing conditions change and adapting to them as the tournament evolves.
This all takes place in the longer poker tournaments, but in those, the excitement and pressure build more slowly, and it's only if you make it to the final table that you are able to experience this crescendo of excitement.  In a sit and go, the entire experience is at the final table.  Before you know it, you are at the bubble, instead of having to wait hours in some regular tournaments.
So the next person to go out will finish out of the money, and the rest will all finish in the money.  Will it be you to go out?  Do you play it safe or look to pound on players who are playing too safely themselves?  Once you are there, do you go for the win or try to outlast people?  Watch your opponents closely though, as what they do will affect what you end up doing.
Some More Advantages Of Sit And Go's
These are just some of the many additional strategic considerations that sit and go tournaments add to the already entertaining game of poker.  It's really no wonder why sit and go's have become so popular.  They are simply loads of fun, and if you are good at them, or become good at them by willing to work at it, they provide the most reliable source of poker winnings available.
The reason is that sit and go tournaments have the lowest variance among all forms of poker, meaning that you will see less bankroll swings with it than at cash games or regular tournaments.  Bankroll swings can drive some players crazy.  Even big winners can experience some pretty big swings, although it's just a matter of not letting this stuff get to you and make sure that you stay the course while you wait for things to turn around.
With sit and go tournaments, good players can finish in the money about half the time, which results in a lot less downward swings because you are losing a limited amount of money each tournament and you can easily turn things around quickly.  Of course this requires you to be a winner, but once you do get there, this all cashes out to your being able to play higher stakes more safely, moving up a lot faster.
This is in fact how a lot of the top online players made their bones and built their bankrolls up to where they could play the highest stakes poker on the internet, the games where you need to bring a million dollars or more.  You won't make this much from sit and go's of course, but they are a great stepping stone to get there eventually.
Titan Poker Adds Significantly To All This Excitement
Titan Poker is always out to make their players' experiences with them as fun and enjoyable as they can, and this includes several promotions and additions to their sit and go tournaments.  One of the best and most popular of these is their jackpot sit and go promotions.
Titan Poker has been running jackpot sit and go's for a number of years now, and previously this has been geared at smaller sit and go players with their Maui sit and go tournaments, where historically for only $5 + $1, players would shoot for an additional $5,000 just by winning 5 of these in a row.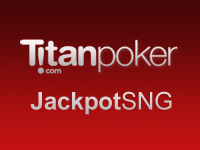 As exciting as it was to shoot for that extra five grand, an enormous amount of course for playing 5 dollar sit and go tournaments, some savvy players saw these tournaments as an additional advantage as far as making money.
Going all out to win tournaments requires taking on more risk, perhaps more than people should, so if you were just looking to get good results overall and didn't worry so much about the jackpot, these tournaments would be even more profitable for you.
This isn't to take away from the thrill of going for the gusto, however you could play your normal game and do better, and in instances where you won one, you could then look to ramp it up and play for the win more in subsequent tournaments.
Regardless of the strategy that you select for these, there's no question that these jackpot sit and go's add quite a bit to an already exciting form of poker.  The Maui tournaments proved to be very popular over the years and always had a lot of action at them at any time of the day or night.
As you will see though, Titan Poker has recently ramped things up with not only the Maui tournaments, but has added 3 more types to ensure everyone can choose whatever jackpot and stake level suits them best.
Titan Poker Expands This Great Idea
The only real problem with the way this all was laid out for is that it left out those of us who prefer to play higher stakes than this.  So if you generally don't like to play $5 tournaments and usually play higher, then even the prospects of winning a big jackpot may not be enough to entice you.
On the other hand, maybe $5 tournaments were too high for you.  So you probably aren't going to want to risk going bust by playing too big of a buy in with your sit and go's to take a shot at this huge amount of cash.
Some players of course were willing to play higher than they should even though it may not have been wise for them, although it's certainly true that you can make further deposits to replenish your bankroll as needed.  Some players are less able to do this though, and Titan Poker wants to now make sure that everyone can comfortably play these jackpot sit and go's.
So they expanded this format from one single $5 + $1 set of tables to a total of 4 of them, starting at $2 + $0.40 to get the smaller bankrolled players involved a lot more comfortably, to the new version of the $5 + $1 where the prize money for winning the jackpot has been greatly expanded for the same amount of money, to a new $20 + $3 level, with smaller tables and a lot more cash, to the ultimate Fort Knox format which costs you $50 + $9 and the jackpot starting at $50,000 and growing!
So here's a rundown of the four different formats and buy in levels and what you need to do in order to hit these big jackpots, which players win quite often by the way:
The Dirty Dozen Jackpot SNG
Titan has made jackpot sit and go's affordable for even the smallest bankrolled players by introducing the Dirty Dozen format.  As you might expect, these tournaments feature twelve players, who buy their entry to these tournaments for only $2 + $0.40.  Then, if you can win 4 of these in a row, you take home $2000.
This is in addition to your normal tournament winnings, as these are regular sit and go's, with prizes for finishing in the money as you normally would see in sit and go tournaments, and the jackpot is simply a bonus for putting together a streak of wins, which is definitely doable if you are good enough.
By playing these jackpot sit and go's, you also gain more experience at them, which will not only help your bankroll through increased winnings, it will improve your skill and your chances of winning the big jackpot.  $2000 is certainly a huge chunk of change for small sit and go players, many times the size of the bankroll that you would typically have in playing these!
Maui Jackpot SNG
The Maui format is the traditional $5 + $1 jackpot sit and go format that Titan Poker has been running for several years now, other than the fact that they have upped the jackpot prize from the former $5,000 to $15,000 and up.  That's right, for the same entry fee and the same 10 players at the tables, you now get to win at least 3 times the jackpot.
So if you win 5 tournaments in a row, as usual, you get a lot more money.  There is a fairly long list of former Maui jackpot winners, and needless to say, all of them have been made tremendously happy.  Now they are three times happier, or more.
As a bonus, if you can finish either first or second in 5 consecutive tournaments, then you take home an extra $200.  All of this of course is on top of your normal winnings, including what you win simply vying for these additional prizes.
Rio Jackpot SNG
Things get even more exciting with the Rio format.  For openers, these tournaments allow bigger sit and go players to get in on the fun, as the buy in for them is $20 + $3.50.  The reason why this is so important is that $20 sit and go players generally aren't going to want to play $2 or $5 tournaments waiting to hit the jackpot.
The reason is, in spite of how big these jackpots are, you want to make sure that you are winning an amount of money with the regular payouts that are significant for you relative to your bankroll and your stake preferences.
So there has been a price that these players have had to pay in the past if they wanted to play jackpot sit and go's, and that price has been these smaller payouts than they prefer and have been accustomed to.  That's the case no more though, which is exciting news.
In the Rio format, there are only 6 players per tournament, making winning them significantly more likely.  Win 6 in a row and you collect a jackpot starting at $30,000, which grows over time until someone wins it.  That's what you call a payout!  First or second in 6 consecutive tournaments also nets you an extra $300.
Fort Knox Jackpot SNG
Finally, for those players of whom $20 sit and go tournaments are too small, and who want to not only play higher but play for a higher jackpot as well, Titan Poker is very happy to announce the ultimate in their jackpot sit and go's, called Fort Knox.
Like the Rio format, all you need to do is win 6 tournaments in a row to win the jackpot.  These tournaments feature a buy in or $50 + $9 though, so players who enjoy playing for more money are well taken care of here.  So this means more profit per hour if you are good enough to beat the competition at these, or once you get to that point.
They don't call this Fort Knox for nothing though, as the jackpot for winning the 6 in a row starts at fifty thousand dollars and just goes up from there.  While you need to be both lucky and good to win this, the better you are or the better you become, the less lucky you need to be.
Once again, there is a second prize, where first or second 6 times in a row gets you an extra $750.  This is once again on top of your normal winnings, and you don't even have to win a prize to make quite a bit of money from these consistently.  However, $50,000 or more sure adds a lot of excitement to them.
So as you can see, Titan Poker really rolls out the extra dough for its sit and go players.  This gives you an idea of how hard Titan works and how much generosity they are prepared to lavish on us to show how much they value us.  Let them show you exactly how much by giving them a try right now and collect some very generous bonus money for doing exactly that!