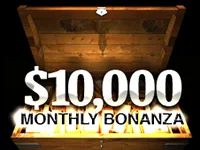 The end of the month is usually a good time for people. A lot of folk receive their pay at the end of the month and there is a psychological boost that comes with the crossing off another page of the calendar. However, if you are looking for another reason to look forward to the end of the month, it may be that Titan Poker has exactly what you are looking for. This is because the site has a $10,000 Monthly Bonanza Tournament taking place at the end of the month and there are three ways to get involved with the big poker event.
If you are a new player to the Titan Poker site, making your first deposit will see you automatically gaining entry to the site. This is a free pass for new players on site and it provides an excellent opportunity to get involved with a major event. If you are a big believer in "beginner's luck", this has to be the poker tournament that appeals to you.
Another way to ensure you get to take part in the big event is through generating a minimum of 750 Titan Points in the month. The qualifying period runs from the 1st of February all the way through until the 28th of February, so if you plan on playing on the site a great deal this month, you should find that your time, money and efforts are well rewarded.
Plenty of poker satellite events to look forward to
If neither of these options appeal to you, there is still another way to play your way through to the Monthly Bonanza and this is through the satellite tournaments that are on offer.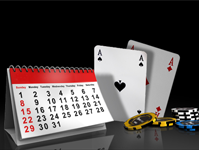 There are three separate routes for players with respect to satellite events. If you are a VIP Bronze or higher player, there are three daily satellites taking place every day and there is free entry for eligible players. If you finish in the Top 10, you get a token to make your way to the big monthly event.
There are also eight satellite events taking place every day with a buy-in of 10 points and this is available to all players. The Top 5 ranked players in these events will make their way into the Monthly Bonanza.
The final satellite event takes place on Monday evening at 7pm GMT and it is open to all players that deposited funds into their account in the previous Monday to Sunday. The Top 50 players at this event will all gain entry to the Monthly Bonanza game.
A player can only gain one token to the big monthly event and a player that finds themselves in a position where they meet the criteria more than once will only receive one token, which is equivalent to one entry to the big event. Tokens cannot be swapped, exchanged or used for other months.
If you need a reason to put a smile on your face at the end of the month, Titan Poker has you covered.