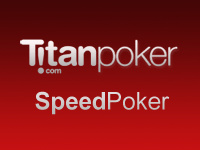 It is always good to start a New Year off with a bang and if you are looking for a fast and furious start to 2014, make sure you make your way to the Titan Poker site. This is because Titan Poker has unveiled a number of Speed Poker Tournaments.
The events provide the ability to fold immediately, to switch between tables seamlessly and there is a chance for huge player pools. The break-neck pace of the game continues all the way through until the final table, where the speed poker tournament will then concluded in a dramatic fashion.
Speed poker has become one of the most important poker site developments in recent times. There have been many strong innovations and developments with online poker, but speed poker reaches out to people in a new way. Not everyone has a lot of time to play online, which means that they want a lot of poker action in a short period of time. In this regard, speed poker is the perfect solution for so many online poker players.
Play Poker At Speed
One thing to bear in mind about the Titan Poker site is that some players in Europe may find that they can no longer access the site. Although the full reasoning behind the move is yet to be disclosed, the company has stopped operating in Holland and Finland. This has come as a blow to the many online poker players in the Netherlands, with many still waiting to see if there will be a reversal in this situation.
There was talk that Titan Poker was pulling out of Canada but that was reversed, with the site still operating. There has also been some online discussion as to whether the switch, which has seen Dutch players redirected to Ladbrokes, is for all players or just for new players. Thankfully, the rest of the European online poker players are unaffected.
Anyone looking to make the most of their time on Titan Poker should keep in touch with us. We believe that we are easily the number one choice in the online community for staying up to date with all of the latest and greatest Titan Poker bonus codes.
If your resolution to 2014 is to play more online poker, the Titan Poker Speed Poker Tournament options will help you out.