If you are looking for a major poker experience in the next couple of months, you will find that Titan Poker is here to give you what you want and need. This is down to the fact that iPOPS is back and with iPOPS VI, there is going to be a guaranteed prize pool of €1,000,000 on offer. This has to be the sort of news that gets you excited and you will be delighted to know that High Events and Low Events are very much on the cards for the next couple of months on the iPoker site.
There is an opportunity to buy-in to the poker fun for as little as €1 or you can just be confident and make your way directly to the €300,000 Main Event! The Low Events will be getting underway on the 13th of April and they will be running through until the 20th of April. The satellites for these events are already underway so make sure you are in the running if you would like to book your entry in that manner.
Get high with Titan Poker
If you are more focused on the High Events, these begin on the 4th of May and they come to a close on the 11th of May, which is the day of the €300,000 Guaranteed iPOPS VI Main Event. The satellites for the High Events will get underway on the 14th of April. A full rundown of all of these events can be found at the Titan Poker tournaments page, which is always a great place to start if you want to see why this is the poker site that is right for your needs.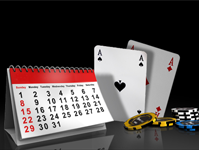 All of these events should be more than enough to convince you to sign up for the site, but if you would like a little bit more information, there is a quick and easy way to get more information. Why not head over to the Titan Poker review page, where you can get the full lowdown on what Titan Poker has to offer and whether it is the poker site that is right for you. One of the most important things for poker players is to make well informed decisions and you will find that this review page provides you with all of the information you need to know to be able to make a sensible decision.
The last iPOPS event ran in November and December of last years, and it was a huge success amongst the online poker community. It is fair to say that Titan Poker is one of the most respected online poker sites for a number of reasons but the fact that the site provides so many big money poker tournaments on such a regular basis is why so many people keep coming back for money. No matter your level, there will always be a poker game or tournament for you at Titan Poker but if you have ambitions of winning big and moving up the poker ladder, the iPOPS events are the tournaments to look out for.