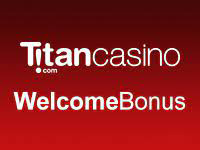 It looks as though casino sites are finally waking up to the fact that players are looking for regular bonuses. A good welcome bonus can help a player to choose a particular site but if there is nothing to follow up behind that welcome bonus, it is likely that players will not stick around for too long. There are plenty of other online casino sites providing welcome bonuses to entice players away and this is where casino site owners and operators need to be smarter. Providing regular monthly bonuses are an ideal way to ensure players stick around and with this in mind, Titan Casino has a lot to offer for players.
Titan Casino offers an enticing first deposit bonus which should boost a few bankrolls but the casino knows that this form of bonus isn't going to last forever. This is why they follow up the initial deposit bonus with a monthly bonus that lasts for six months. Yes, the first half year a player plays on the Titan Casino site is taken up by a range of bonuses, all of which will help players to keep on playing.
The Titan Casino monthly bonus sees players receiving a 100% matched deposit bonus up to a value of €200. This is available every month for the next 6 months, which means a player could pick up an additional €1,200 through the Titan Casino site.
The bonus counts on your first deposit of the month
The bonus is provided on the first deposit a player makes in the calendar month so be sure to make this your best deposit. Depositing €200 will see you playing with €400 at the start of the month, which is definitely a massive incentive to stick around on the Titan Casino site.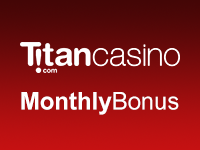 The monthly bonus is not able to be used in conjunction with any other bonus unless it has been stated. Players looking to withdraw cash from Titan Casino after receiving the bonus are required to wager their deposit and play bonus a minimum of 25 times. Any attempt to withdraw before reaching the specified minimum wagering level will see the winnings and bonus voided.
Players that deposit €100 will be required to wager €5,000 to meet the wagering requirement. Players that deposit €200 will be required to wager €10,000 to meet the wagering requirement. This means that any player that aims to pick up the full bonus over a six month period will be required to wager at least €60,000 to obtain the full benefit.